How to Update Your Listing in the UA Online Directory (edir)
Directory records are automatically created for all Faculty and Staff at the University of Alaska.* Non-employees affiliated with UA may be Sponsored by a UA departments; the form for sponsoring an individual is at ​ Guest Sponsor Form; contact the Help Desk 907 450 8300 or helpdesk@… for more information on sponsorship.
Some basic information (legal name and department) is automatically added from employee records. Other information, including office location, working titles, and contact information, is maintained in the online directory itself.
Check your existing online directory record
Please review your listing using the web interface to this directory at ​https://people.alaska.edu. Search for your name; the list of results displays names with basic information; click on the magnifying glass icon next to a name to view additional information. An example is shown below. (You may also search by UA Username, UA ID #, phone #, or email address.)


Many departments enable a departmental administrator to edit the records of individual employees within that department, but individual employees are always encouraged to review and correct their record as appropriate. If your listing is outdated or incorrect or incomplete, please update your record.
The Directory Personal Update page
To make changes or corrections to your information, log in to ​https://edir.alaska.edu (using your UA Username and UA Password). After successful login, click on the "Personal Update" link.

The Personal Update page allows you to edit existing values in one pane (left image below) and add new values in a second pane lower on the page (right image below):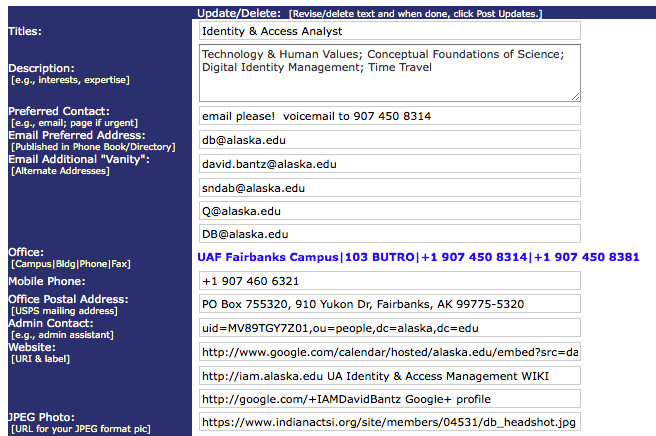 Brief notes to assist your update are below; additional help is available to you from OIT. In-person training is available as well; check out OIT's training schedule www.alaska.edu/oit/training/ for EDIR sessions.
Commonly used information in your online listing:
Your name: The Directory uses your legal name and "preferred first name," if present, from your employment record. If you normally use something other than your legal first name (e.g., a nickname, your middle name) and want that name used in the directory in addition your legal first name, you can add that name in the Preferred First Name field. To add a preferred first name, log in to ​https://uaonline.alaska.edu, then click on "Personal Information;" on the following screen, click on "Preferred First Name" (as shown below). Directory searches will then match either your legal or preferred first name. You could also use preferred first name to enable people to find you by a former name by indicating that former name (say Gene Oldname) as preferred first name.

Your "Home" department: The online directory displays your "home" department as indicated in your UA employment record – it cannot be edited in the online directory. If you have multiple affiliations (joint or split appointments or informal connections) department administrators or the directory staff can add those additional affiliations to your listing. Campus affiliation is based on your home department.

Your email address(es): Email addresses are generally added to your record by the group that provides email service. You may edit or add an additional email address, and you may add so-called "vanity" email addresses, such as firstname.lastname@alaska.edu (the online directory checks and enforces uniqueness of these vanity email addresses). Email addressed to such vanity email addresses is routed to your normal email account (generally UAUsername@alaska.edu, hosted at Google).

Your office location: Office locations indicate the building and room number with corresponding telephone and fax number. Click on the "new locator" link in the table on the Personal Update page to create an office location. You can edit an existing locator by clicking on its link in the same Personal Update page (examples below):

The Locator Update Form provides for adding UA building location. It is important that you indicate the building from the drop-down list of building names (circled in image below); do not type a building name. Add a room number or location in the Room field - do not add the building name here. Telephone and fax numbers use the international standard formatting shown - no punctuation marks other than the starting plus.

The locator above yields these lines displayed in directory results:
Office: 103 BUTRO / UAF Fairbanks Campus Phone: +1 907 450 8314 / FAX: +1 907 450 8381
Your Administrative Contact: Some people wish to refer people to an administrator or secretary. Look up the record of the person you want to display as your administrative contact; copy the value of the UID (unique identifier for that record) and copy into the field labeled "Admin Contact" in your record. Directory users will see the name of that administrative contact with a link to that person's directory listing.
yields this line in the directory listing:

Admin Contact: Emery Johnson

Your photo: You can enter the URL of a small portrait photo of yourself (jpeg format only) that will display with your contact information.
Your Website(s): You can provide one or more web sites (URLs, including the ​http:// or ​https://) followed by a space, followed by the text that will display as a link to this web site.

yields this line in the directory listing:
Web Link: ​GAE Calendar for dabantz / ​UA Identity & Access Management WIKI / ​Google+ profile

Your Office Postal Address: You can include a postal address; enter as a single line with commas separating elements. Use USPS conventions as appropriate (e.g., two-letter state abbreviations, 9 digit zip codes); an example is shown:
yields in the directory listing:

Employee Address: PO Box 755320, 910 Yukon Dr, Fairbanks, AK 99775-5320

---
*Directory records are also automatically created for students, who may also edit some information in their records; however student information displayed is subject to various restrictions by US law (FERPA) as interpreted by UA Registrars and UA General Counsel. This document only describes employee information; information about students, including student data of employees who are also students, is not described here.